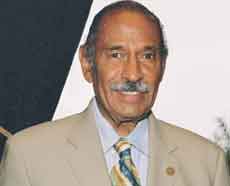 Rep. John Conyers
They've already had mock impeachment hearings in the basement of the Congress building June 16, 2005 John Conyers presiding over the festivities.
In the Capitol basement yesterday, long-suffering House Democrats took a trip to the land of make-believe.

They pretended a small conference room was the Judiciary Committee hearing room, draping white linens over folding tables to make them look like witness tables and bringing in cardboard name tags and extra flags to make the whole thing look official.


Rep. John Conyers Jr., center, and other Democrats held a mock Judiciary Committee hearing as a protest against the war in Iraq.
Rep. John Conyers Jr., center, and other Democrats held a mock Judiciary Committee hearing as a protest against the war in Iraq.

Rep. John Conyers Jr. (D-Mich.) banged a large wooden gavel and got the other lawmakers to call him "Mr. Chairman." He liked that so much that he started calling himself "the chairman" and spouted other chairmanly phrases, such as "unanimous consent" and "without objection so ordered." The dress-up game looked realistic enough on C-SPAN, so two dozen more Democrats came downstairs to play along.
Link
So it is not surprising neither is it in doubt that Democrat pay back is inevitable if Democrats take control of the House that they will
impeach
President George W. Bush.
But that's kind of talk is supposed to be kept on the downlow can't rile up unsuspecting Conservatives with that kind of talk so Harry Reid and Nancy Pelosi are attempting to keep that kind of talk under wraps.
But if Democrats manage to take the House this November America is in for the most explosive and divisive times this side of the civil war.
After Democrat all out war against the Republican lead government starting with the 2000 presidential elections there is no question that Democrats will move against the Republican Icon George W. Bush if they are given the opportunity this November.
Democrat vitriol and loathing of Conservatives doesn't leave anything to the imagination there can be no doubt that if Democrats are given the opportunity they will Impeach President Bush Quid pro quo to answer the William Jefferson Clinton Impeachment.
But if Conservatives catch wind of the stench of this kind of Democratic partisan putridcy there will not be any Democratic control in the House neither will Democrats gain power for quite a long time.
Democrats will be confined to play acting in the basement of Congress where Congressmen John Conyers can call for impeachment, reparations or fried chicken since he continues to use race and hatred to divide this nation.